Breaking Up Business Partnerships
Business Divorce: Ending the Partnership
Shall we break up?
Five ways to end a partnership
What if my partner is not willing to split up?
Should I consider litigation?
What can I expect if we break up?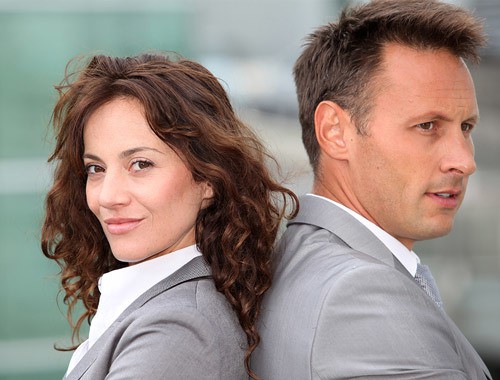 At the end of a business life, if it all goes well, the partners look to exit the business, take the cash and start a new chapter in their lives. That's what they hoped for in the beginning.
On the other hand…
Perhaps you've had a partnership for a while and it hasn't been going well lately. You have different ideas about where the business should be going, your partner is taking money out of the business without your agreement. Or maybe your partner has lost interest and isn't putting in the effort. Maybe you don't even talk to each other anymore. In a worst case scenario, maybe your partner is abusing you, oppressing you, or engaging in fraudulent or illegal activity.
It can be very costly and disruptive to break up a partnership. Perhaps there's a chance for the partners to continue the partnership with different options, once they weigh the risks and rewards.
Alternatively, we've had clients who felt they were in impossible situations and couldn't see how it could be resolved. And no one else could help. Yet we did. Our consulting partner can open up communication if the parties are willing to try. Our lawyer knows how to protect your rights and bring about a favorable resolution of your situation. He uses creative techniques to break up businesses and settle seemingly intractable disputes in or out of court.
This ebook will help you learn your options if you have a less than healthy business partnership.  Will you repair and reformulate the partnership? Break up? Will you need to use litigation as a tool? You'll benefit from the authors' 78 years of combined experience both as legal and consulting professionals, as well as owners in small business partnerships.
Get Immediate Access To Our Free eBook: Business Divorce Institute, From Prevention to Finalization
Discover the most important things you need to know and answers to your most pressing concerns about forming a successful business partnership.
Benefits
You'll get pointers that will help you make a decision about ending your partnership or exploring other options.
You'll learn 5 ways to end a partnership so you can start to investigate which will be best for you.
You'll understand what's possible from reading case studies
You'll gain hope that there is a way out of your seemingly impossible situation.
You'll understand that litigation is not something to be feared, but rather, a tool of empowerment.
You'll be prepared for what's involved in litigation should you decide to go that route.
If you decide to break up the partnership, you'll get a picture of the impact it might have on your business (or former business) and all its employees, vendors, clients and other stakeholders.
You'll get some ideas about how to pick up the pieces.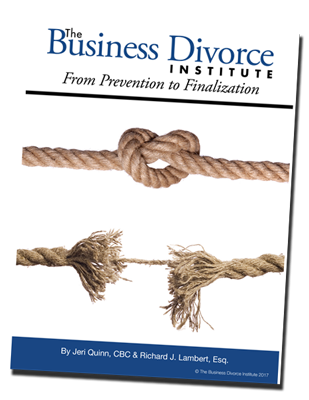 From The eBook...
Be prepared to notify at least 13 different types of vendor/partners about change of control if your partnership breaks up. Here are three: "Banker, Landlord, Mortgage holder" We identify 10 others on page 21.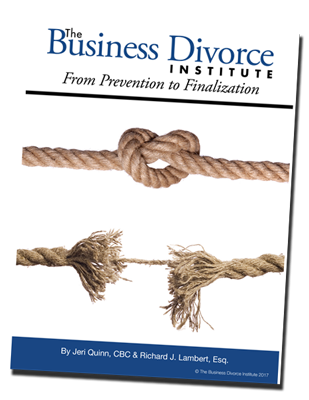 From The eBook...
"There are basically five ways that two partners can legally effectuate a breakup: Option 1. You buy out your partner. Let's assume that you are the natural buyer, what do you need to consider in making an offer to buy out your partner? …valuation?…private valuation? … purchase price,?… payment terms? … down payment? … promissory note? Learn the details and what's possible for all 5 ways of breaking up, on Pages 22-26.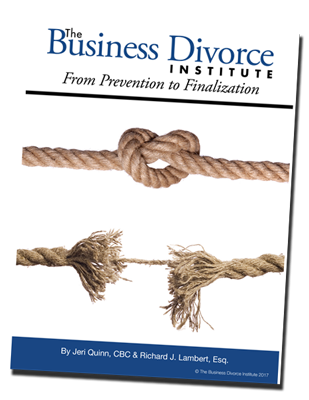 From The eBook...
Litigation "At a certain point, litigation may be the best option, if not the only option. The good news for the business owner searching for a way out of a bad partnership is that litigation can be an amazingly effective tool for resolving business divorce cases. Many states have laws on the books that are specifically designed to assist business owners to obtain a business divorce. In New Jersey, for example, there is a statute called "The Oppressed Minority Shareholder Act"…" Learn how you can be protected on Page 27
Testimonials 
"This EBOOK is much needed, since I found precious little written on the topic at the time I was looking for it. I had no idea the behaviors being perpetrated on me were illegal or that I had legal recourse. The most important thing in my experience was the knowledge and understanding of the law that you communicated to me: That I was absolutely protected under the law, and also that I was the natural buyer. This gave me tremendous strength."
Randy, Marketing Company
"A business partnership recently ended. One thing that I overlooked in our relationship was the annual check up. Our purposes diverged and I did not notice that our communications about our changing interests was missing.
This book drives the point about the importance of seeking an equal emotional investment among partners. Had we taken an inventory of our stocks of time and commitment, along with cooperative approaches to handling our differences, the divorce may have been much more amicable.
I believe this book is an invaluable tool for anyone thinking about ending a partnership with respect and relative ease.""
Marty Katz, Stratist Group
"Ending a business partnership is never easy – whether the business is successful or not. It's a true 'divorce', with financial and personal issues that profoundly affect next steps in life. The Business Divorce Institute's eBook "From Prevention to Finalization" is absolutely to the point, shaping thinking and covering all the phases. Written by Jeri Quinn, a published veteran business coach, and Richard J. Lambert, Esq. attorney specializing in business divorce, the ebook gives a practical overview on whether to form a partnership, keeping it going and growing, and ending it amicably and profitably. Having had 2 successful partnerships and gone through 2 less successful business divorces myself, plus seeing the internal workings of many SMBs, I found their expertise to be exactly 'on the money'. "
Tony Grass, President, e-Market Intelligence
The Business Divorce Institute, From Prevention to Finalization
Get immediate access to this easy-to-read ebook and learn:
How to save money, time and stress by preparing yourself
How to protect yourself and your family
How your healthy partnership fosters business growth
How you can get out of a seemingly hopeless business partnership
The details of forming, growing or breaking up a business partnership
(The ebook will also be sent to your email address.)
Curious? Get Your Copy Today!
Spread the Love, Share with A Friend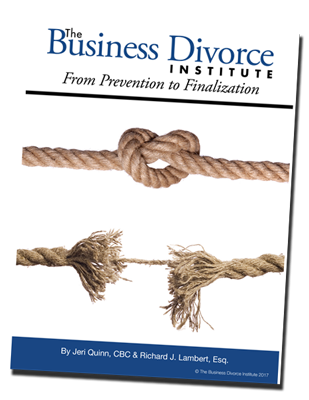 Get immediate access to your free copy of the ebook:
Business Divorce Institute, From Prevention to Finalization